Posts Tagged 'fitness'
July 15, 2014
Good Morning! I have been all about workouts that require minimal (or no) equipment lately, and have another great one for you today that is slightly more challenging than last week's.
I started with a 2.5 mile run, which makes this a workout you could easily complete at home if you have a set of dumbbells, but you could definitely take it to the gym and hop on any type of cardio equipment instead.
My personal goal was to get Roadie out of the house, knock out cardio, and hit all of the main muscle areas!
Cardio + Circuit Workout
Video References:
biceps curls to shoulder presses
(modification for T-stabalization twists here and here!)
After you complete your cardio of choice and one round of the circuit, repeat the circuit starting with the squats. The entire workout took me just about forty minutes to complete.
*Please remember to listen to your body and modify as needed. The workouts I post are what work best for me, but might not be the right type of exercises for you.
*If you are unsure on how to complete an exercise, please use the video references as a guide and listen for tips on form. Also, I always recommend consulting a doctor before drastically changing your current fitness routine!
Dinner
As soon as I could, I moved my way over to the kitchen to whip up something easy for dinner. I was considerably hungry, as I knew Scott would be also coming home from his softball games, so I turned to an old favorite around our household.
Whole wheat linguine with Al Fresco Sundried Tomato chicken sausage in marinara sauce seasoned with red pepper flakes, oregano and garlic salt.
The sauce was low-sodium, so I figured it would be okay to include the garlic salt this time.
Breakfast
I skipped dessert and even woke up more satisfied than normal. It's been a while since I have made pasta without using veggie noodles, so I guess that was to be expected.
This morning I turned to another go-to with a healthy oat and egg pancake topped in agave nectar and cinnamon.
I think I'm finally getting the hang on how to flip them. My biggest tip would be to be patient. Don't try to hurry it along and flip it over until it's ready! Use medium heat, a big spatula, and look for tiny bubbles to form to know when to go for it.
All right. The sun is shining, my coffee has kicked in, and it's time to attack the day. I'm excited to finally go (online) laptop shopping (finally!) and have plans to make some kind of banana bread in between my much needed study sessions today.
When it comes to my laptops, I'm definitely a Mac girl. Any pros and cons or suggestions concerning the MacBook Pro vs. the MacBook Air?
Also, feel free to share your favorite banana filled recipe below. I'm in need of some inspiration!
Question of the Morning
• Do you like to use free weights, or do you prefer to use machines when strength training?
I go back and forth. Currently, I have been in the dumbbell type of training mode for the last couple of years. I'll hop on a machine from time to time, but the majority of the time I enjoy completing and putting together workouts that I can do virtually anywhere!
June 24, 2014
This morning I'm excited to feature a lovely blogger + friend named Gina!
I've been following her blog for quite a while and love her even more in person. We clicked right away when we met and both share a common love for anything dance, barre, shopping, or smoothie bowl related.
I asked her to share something fitness related, and I loved reading her tips about some of her favorite go-to strengthening moves. I hope you enjoy them as well!
***
Hi! My name is Gina and I blog over at The Fitnessista. I was so excited when Heather invited me to crash the party over here today.
I've had the chance to hang out with Heather a couple of times, and she's just as wonderful as you'd expect from reading her blog.
I'm so thankful that the blog world introduced me to her.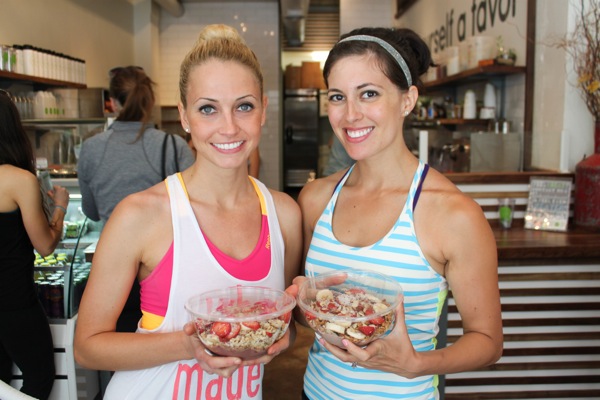 (post-workout smoothie bowl date!)
At The Fitnessista, I write about healthy recipes I've created, quick workouts, and adventures as a group fitness instructor, military wife and mom. I'd love it if you stopped by sometime!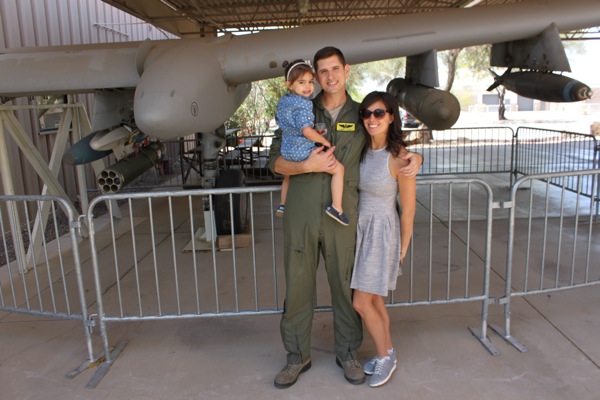 My favorite classes to teach are barre and Zumba, but I've taught multiple workout formats including bootcamp, stretch, TRX, water fitness, treadmill and core. On the blog, you'll find different types of printable workouts and videos, ranging from ab burners and kettlebells to barre workouts. Since I love posting quick and killer workouts, I figured I'd share some of my all-time favorite bodyweight exercises today.
It's a common misconception that you need fancy equipment to get in an effective workout; definitely not the case. All you need is your own bodyweight, some supportive shoes and a kick of motivation.
Here are some of my go-to exercises to strengthen and work the entire body. While I am a certified personal trainer and group fitness instructor, please keep in mind that you should always check with a doc before making any fitness changes. Honor your body and modify as needed <3
The plank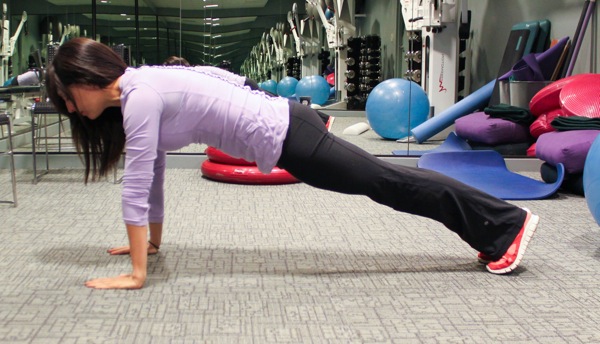 For a basic plank, you'll have your hands or forearms on the floor with your feet or knees on the ground. The key is to make sure your hips are in line with your body and that your spine is neutral. Press back through your heels. Change up your plank: lift one leg off the floor, keeping your hips parallel to the ground; "saw" forward two inches and back two inches; perform hip drops, alternating dropping your hips towards the ground; and try up and down planks, walking your hands down to your forearms and back up onto your hands. Here are more plank variations, too.
Squat and variations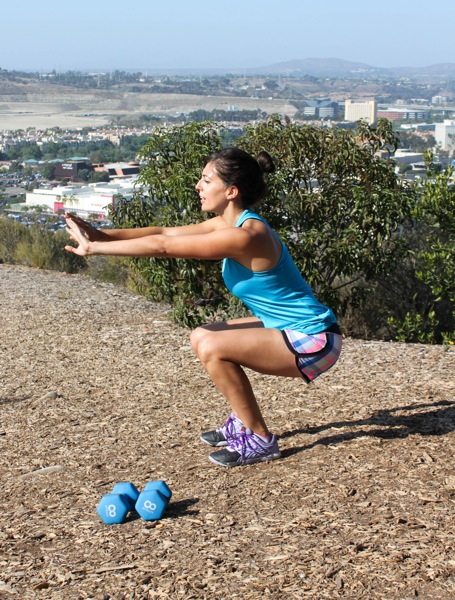 For the classic squat, make sure your chest is lifted, core is tight, and your weight is in your heels as you sit back. As you squat, aim to get your thighs parallel to the floor and sit back as you sink down. Engage your legs and power through your glutes as you exhale to stand. Change it up: try squat tempo variations by going down for 3 counts, up for 1 and vise versa. You can also hold your squat and drop it at least 1 inch ever 30 seconds. This one is killer!
Lunges and variations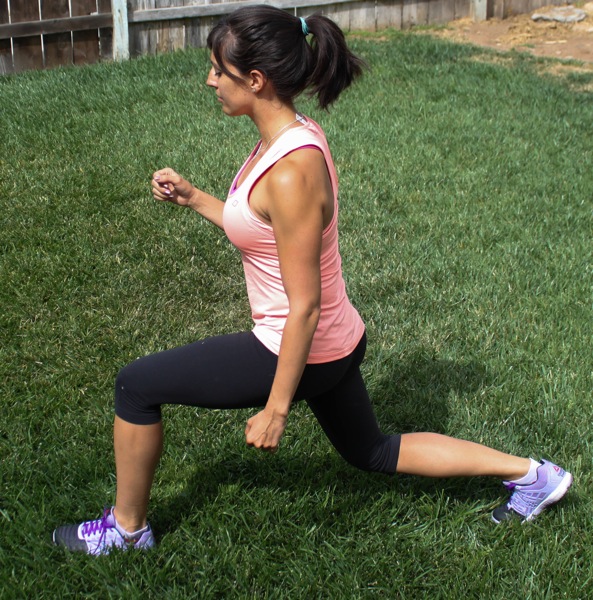 For a standard lunge, you'll have a wide stance. Keep your legs hip-distance apart and as you lunge, keep lifted through your chest and think about sinking down instead of forward. Engage your legs to rise back to standing. Change up your lunge: hold your lunge at the lowest point and slightly bend and straighten your back leg. You can also add a hip extension at the top of the movement by raising your back leg off the floor and squeezing your glutes. More lunge variations here. 
Pushups and variations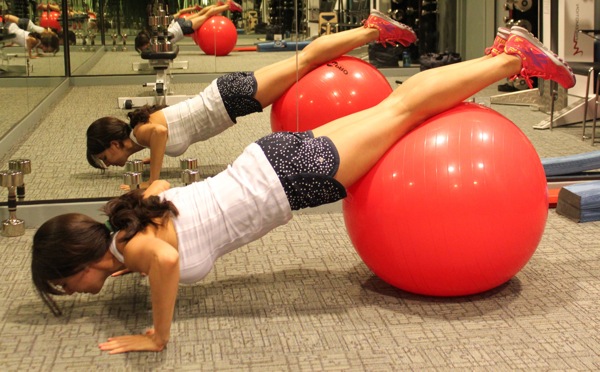 Don't be afraid to do modified pushups on your knees if the full version doesn't work for you! It's better to modify and have awesome form than to sacrifice form for a few of the full version. Make sure to keep your hands pressing into the floor and squeeze your chest on the way up. If you're looking for pushup modifications, check out this post!
Burpees and variations
Standard burpee: start standing with arms up, squat to bring both hands to the floor, walk or jump back to plank (optional pushup here), walk or jump your feet back to your hands and spring up.
I'm pretty sure we all love to hate the burpee, but it's a fantastic way to increase your heart rate between strength sets. To modify, you can walk back to plank position and back to your hands instead of jumping. Looking for a challenge? Add a tuck jump at the top, or try bounding burpees, where you travel forward during your jump squat. My favorite burpee variations are in this post.
I hope you got some new ways to change up classic fitness moves and feel inspired to try a little something different during your next workout!
I'd love to see you around the blog sometime! We're running Summer Shape Up right now, which includes 4 weeks of free fitness and meal plans. Check it out here if you'd like.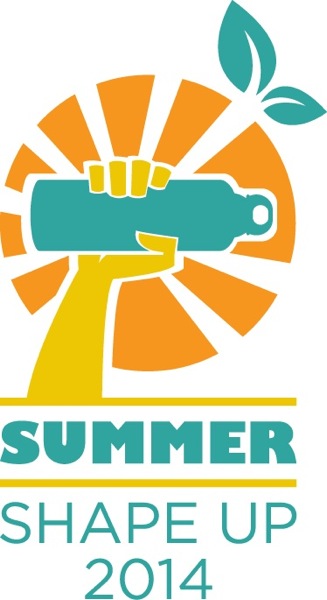 Hope you enjoy the rest of your day, and thank you again to Heather for having me.
xoxo
Connect with Gina: BlogLovin' | Facebook | Instagram | Twitter
***
Speaking of go-to strengthening moves, I threw together a handful of my favorites for a great running and circuit travel workout yesterday. I'll be back in to share it with you this afternoon!
Question of the Morning
• What is your favorite go-to strengthening exercise?